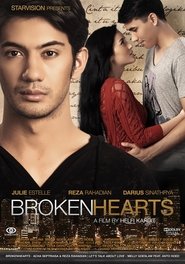 BrokenHearts (2012) DVDrip 480p
When Olivia's (Julie Estelle) boyfriend, Jamie (Reza Rahadian), disappears without any warning, Olivia's life becomes cold and empty. For Olivia, Jamie will always be her first and last love and when he leaves, her trust in men is destroyed, believing that all guys are liars and thieves that steal the hearts of women. With her broken heart, Olivia has a hard time trusting anyone, even when she meets Aryo (Darius Sinathrya), a friend of Jamie. Aryo, asked to comfort Olivia by Jamie, becomes closer and closer to Olivia.
In fact, it was Jamie who asked Aryo to replace him with Olivia, as he has suffered complications with Anoreksia Nervosa. Because of the rarity of cases in young men, Jamie requires constant medical attention and has a short prognosis. As Aryo and Olivia fall deeper in love, Jamie, watching, begins to experience jealousy and doubts. What will Jamie do? Will Aryo give up Olivia for his friendship with Jamie?
Duration: 96 min
Quality: 480p
Release: 2012